Home
This wiki is intended to be a planning space where volunteers, partners and potential investors can help develop the concept, business plan, operating plan and strategies and help achieve the mission of the Tutor/Mentor Institute and the Tutor/Mentor Connection (T/MC).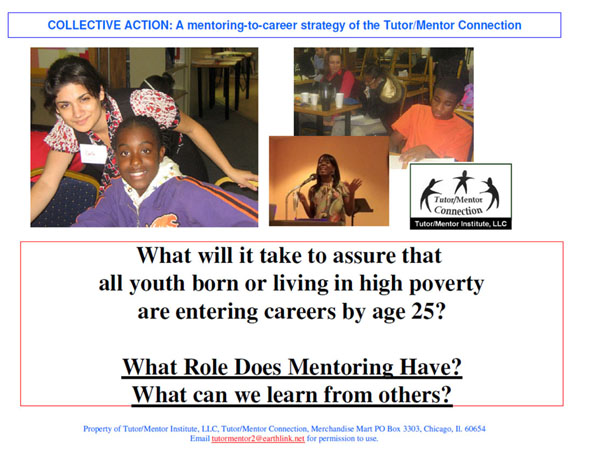 Our primary focus is building a system of support for small and medium size volunteer based tutoring, mentoring and non-school learning programs operating in high poverty areas of metropolitan regions like Chicago. However, the platform the Tutor/Mentor Institute, LLC is creating, can be used to help people connect and work together to solve any kind of solve problems that repeat in many parts of a big city like Chicago, and in many other places around the world.
This platform incorporates spatial thinking, seeking a distribution of great programs in all places where they are needed. It also involved long-term thinking, seeking to support the on-going operations of constantly improving organizations working to solve complex problems. It aims to become a meeting place like Facebook and a resource for information used regularly by people who now use search engines like Google to find ideas and information.
However, it includes two elements that are not yet part of Facebook or Google.
This platform seeks to include a learning and facilitation process, aiming to help people who gather in on-line communities, or who use search engines like Google, to build a deeper understanding through repeat use of the site over many years, make better sense of the information and to determine actions and strategies that can solve a problem if these are repeated in many places for many years.
This platform supports a "knowledge based" problem solving process. Thus, a unique resource is the extensive library of information related to poverty, workforce development, tutoring, mentoring, education issues, as well as an extensive library of information people need to know to build and sustain long-term social benefit organizations, or to support them from business, political and/or philanthropic centers of power. One part of this knowledge base is a list of Chicago area tutor/mentor programs, and an on-line map directory, showing where programs are located and where more are needed. Deeper learning means that people spend time learning from the information in the library and from their own efforts, then use what the learn to innovate constant improvement to on-going solutions.
This platform also intends to increase the flow of needed resources directly to all of the places working to put the information and resources to work in local problem solving. That's the fourth component of this platform and what makes it unique. By using maps and databases we can point to the places where the problem is occurring, and we can point to the organizations operating in those places. By increasing public awareness and traffic to the platform, through many different advertising and social media strategies, we can increase the flow of resources and lower the costs of acquiring these resources for every organization using the platform.
Finally by using the platform as an information collection tool, we can also collect data each year that data scientists can use to create new information, the same way businesses use annual sales and consumer satisfaction reports to constantly improve their products, services and business strategies.
As a revenue-generation strategy and business plan, this is still in the CONCEPT and DEVELOPMENT stage. Tutor/Mentor Institute recognizes that this strategy is "outside the box" for most people and that with limited resources we have not been able to present as clear a definition of our goals and actions as is necessary.
This four-part strategy shows the components of the platform Tutor/Mentor Institute, LLC is building, and what we do every day to help tutor/mentor programs grow in more places.
This article illustrates how the information we collect and share can stimulate innovation and process improvement throughout a sector.
This Tutor/Mentor Learning Network document shows the talent needed to do achieve the vision and goals described in this wiki and on the Tutor/Mentor Institute, LLC web site.
Browse through the sections of this wiki
to see the range of ideas that support this concept and if you see it's potential, add your own time, talent and resources to build it into a business and revenue-generating strategy that can fuel its growth into a dominant force for social problem solving used by people throughout the world.
There already are many activities in place that have been started between 1993 and today. This page is the outline and workspace for each of these strategies. While one benefactor/investor could provide the capital to develop every idea shown, each strategy could also generate its own business plan and revenue strategy. Which ever are developed first have the potential to pull each of the other strategies along with it.
Browse the various sections and links on the Tutor/Mentor Institute and visit the library and video page for ideas that are already available. We thank you for visiting and look forward to your feedback and participation.
If you want to volunteer time or talent to build this organization, using this wiki as a planning space, your help and/or financial support is more than welcome. Email ten.knilhtrae|2rotnemrotut#ten.knilhtrae|2rotnemrotut to introduce yourself
All of this costs money and while I'm trying to find investors and partners your contributions will help me keep operating on a day-to-day basis. Visit this page to find a PayPal button you can use to make a contribution.
page revision: 28, last edited: 06 Sep 2018 20:03